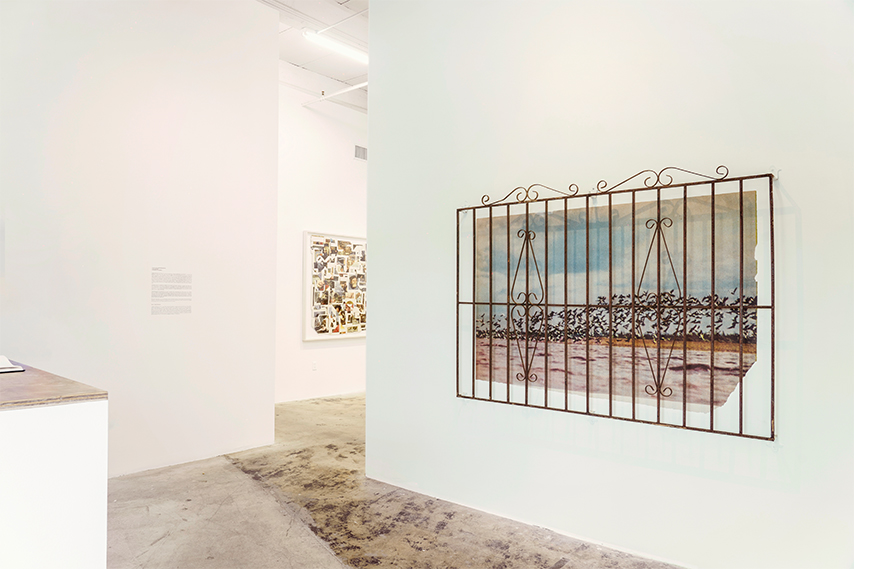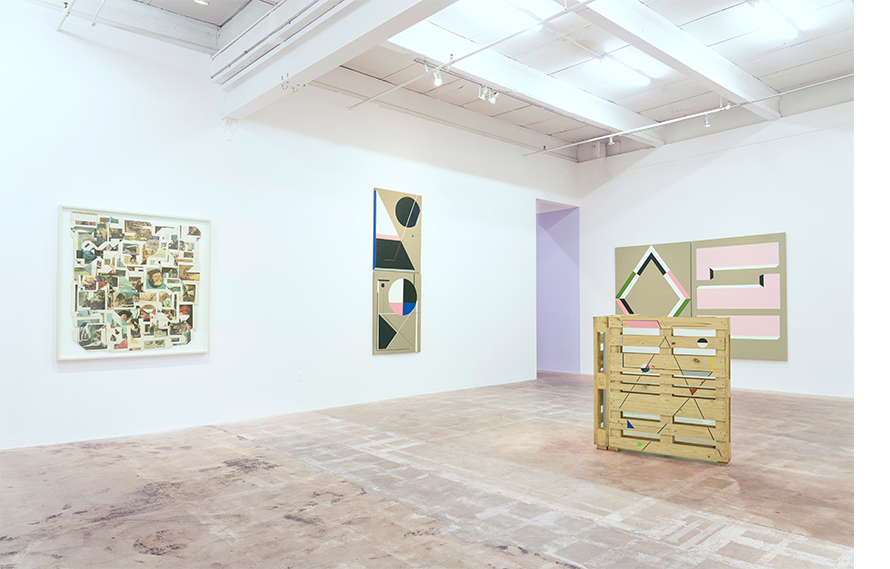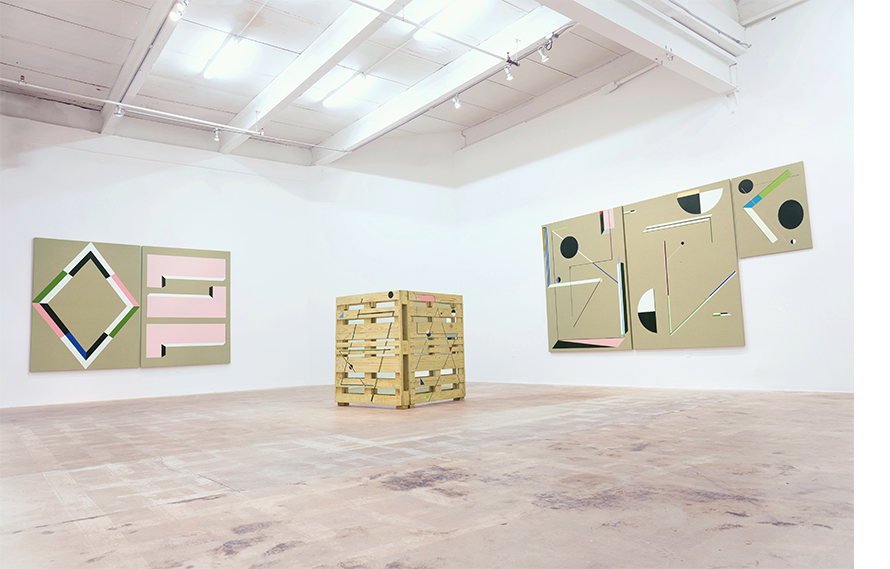 JORGE CABIESES
Constructions and Cancellations

Curator: Laura Marsh

Apr 15 | June 12, 2021
Main Gallery

Jorge Cabieses' paintings are distinctly geometric and his approach is successful in outsmarting geometric abstraction. His high clean and regular forms are contrasted by the use of hard and rustic materials. A few figurative scenes recede into the background, simultaneously revealing their supports. Applied with oil sticks, areas of solid and plain colors recall geometric abstraction. Contrary to the artistic missions embraced by these mid-twentieth century artists –the quest for an autonomous language– Cabieses' practice is grounded in the slippage between the optic and haptic dimensions. This is the foundation upon which his work stands apart and the basis for his renown in Latin America. Curator Laura Marsh states, " Jorge Cabieses' collages, paintings, and sculptures have resonance and depth beyond their points of departure within the canon of painting.

Cabieses folds art magazine images of old master paintings to obstruct, conceal, and reveal spatial relationships and sculptural gestures. The magazine fold becomes symbolic and transforms into a vehicle for constructing elemental compositions for spatial interactions. Building from the emptiness of raw canvas and finding composition through explorations in line and form are the basis for his visual identities.

Intervening with the exhibition is a set of burglar bars suspended just inches away from a digital print of a flock of birds rising and falling poetically like the tide. Referencing protective structures that deny entry and access into our homes combined with the force of nature elicits a feeling of sculptural and bodily mass. The artist revealed to the curator that he was interested in collecting the window and door bars from Miami, and the curator's partner obtained and offered them to the artist to alter and respond to.

Similarly, Cabieses cuts into shipping crates and layers acrylic on the surface. The mechanisms of support in everyday objects are subjects for structural compositions, folds translate into collaged and painted lines, and shapes parade around the canvas.

Jorges Cabieses (b. 1971, Lima, Perú) has participated in numerous group exhibitions in Cuba, Peru, Chile, Czech Republic, Germany, Costa Rica, Spain. Since 2003, he has held nine individual exhibitions "Instruction Manual," Artco Gallery (2003); "Boarding Pass," Gallery Punctum (2004); "Post," Gallery Lucia de la Puerte (2006); "Popular Mechanics 2," Gallery Link (2007); "Screen," Link Gallery, Buenos Aires (2008); "Concreto," Galeria Lucía de la Puente (2011); "Superficies," Galería Miroquesada Garland (2012). In 2011 he was selected for the Cisneros Foundation Fellowship. His work is part of the CIFO Collection and can also be found at Abstraction in Action, a project by curator Cecilia Fajardo Hill for the Collection Sayago & Pardon, in California.

Constructions and Cancellations will be on view through June 15th, 2021. The hours are Monday to Friday, from 12 pm to 6:30 pm, and Saturday from 2 pm to 6 pm. Dot Fiftyone Gallery is located at 7275 NE 4th Ave, Miami. For more information or to schedule an appointment, please contact Isaac Perelman: isaac@dotfiftyone.com

Click here for the exhibition's check list



---
JON HENRY
Stranger Fruit
Presented by 2B Nonprofit

Mar 18 | Jun 12, 2021

"Stranger Fruit" photo series was created in response to the senseless murders of black men across the nation by police violence. Even with smart phones and dash cams recording the actions, more lives get cut short due to unnecessary and excessive violence.

Who is next? Me? My brother? My friends? How do we protect these men?

Lost in the furor of media coverage, lawsuits and protests is the plight of the mother. Who, regardless of the legal outcome, must carry on without her child.

I set out to photograph mothers with their sons in their environment, reenacting what it must feel like to endure this pain. The mothers in the photographs have not lost their sons, but understand the reality, that this could happen to their family. The mother is also photographed in isolation, reflecting on the absence. When the trials are over, the protesters have gone home and the news cameras gone, it is the mother left. Left to mourn, to survive. — Jon Henry

Jon Henry is a visual artist working with photography and text, from Queens NY (resides in Brooklyn). His work reflects on family, sociopolitical issues, grief, trauma and healing within the African American community. His work has been published both nationally and internationally and exhibited in numerous galleries including Aperture Foundation, Smack Mellon, and BRIC among others. Known foremost for the cultural activism in his work, his projects include studies of athletes from different sports and their representations.

He was recently awarded the Arnold Newman Grant for New Directions in Photographic Portraiture, an "En Foco Fellow" for 2020, one of "Lens Culture's Emerging Artists" for 2019 and has also won the Film Photo Prize for Continuing Film Project sponsored by Kodak.