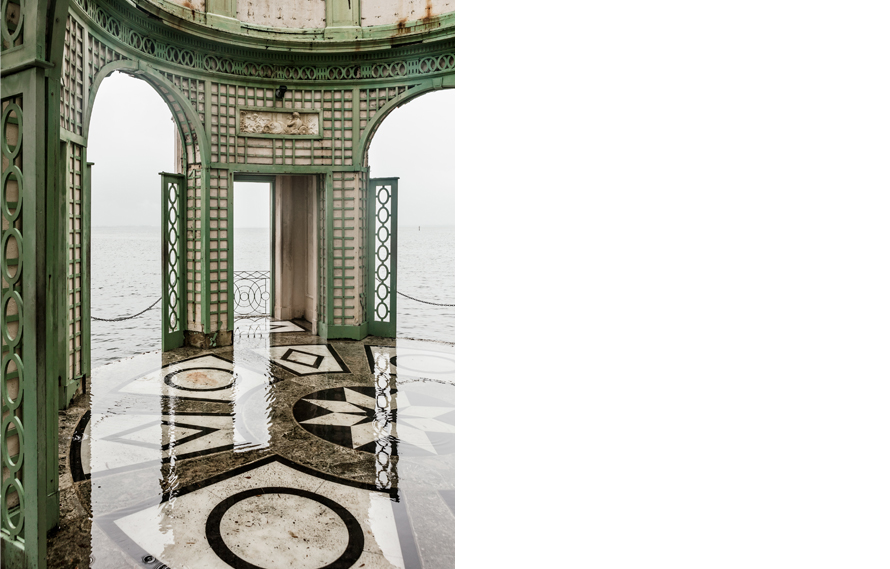 ANASTASIA SAMOYLOVA

FloodZone

Curated by Verónica Flom
June 18 - September 14, 2020

Comprising a substantial selection of works from Anastasia Samoylov's acclaimed photographic project FloodZone, the exhibition presents a sharp and poetic observation of the impacts of sea level rise the Southern Unites States. Featured in The New Yorker, Bloomberg, El País, Washington Post, Collector Daily,The New York Review of Books, among other key publications, the book of the project, with over 80 images, was released by Steidl in 2019.

Anastasia Samoylova's subtle sensitivity and incisive wit inform her unique way of looking at one of most urgent issues of the 21st Century: climate change. Her engagement with water is what ultimately determines the sense of her work. The artist moves through natural and urban spaces, picking out eerie details that remind us of the possibility of an imminent catastrophe, or pointing to climate-related gentrification and the pushing out of local communities. The result is a singular portrait of the region, which captures its ambiguous essence as a heavenly but fragile and uncertain geography.

Pastel-painted walls, advertisements in construction sites, desolate landscapes after rain or a hurricane, and idyllic summer pools hint at the complexities beneath the official picturesque iconography. Mixing lyric documentary, gently staged photos and epic aerial views, FloodZone depicts the shoreline between growth and destruction, pleasure and collapse. Samoylova's work defies any categorization of environmental photography or eco-photography. Instead, it is a critical yet heartfelt response to the precariousness of artificial paradises and the imminence of disaster, and a metaphor for a society that is ready for a change. In a moment characterized by crucial events, addressing climate change is not only a path of resistance, but also a combat to safeguard and protect our future.

Anastasia Samoylova moves between observational photography, studio practice and installation. In 2020 she has held a solo exhibition at the Contemporary Art Museum at USF Tampa. Since then her work was presented at the Biennale für aktuelle Fotografie, in Germany. Other recent exhibitions include Salisbury University; Museum of Contemporary Photography, Chicago; Milwaukee Institute of Art and Design; Griffin Museum of Photography; Aperture Foundation; as well as numerous festivals in Brazil, Belgium, France, Israel, Spain, Netherlands, and South Korea. Her work is included in the collections of the Pérez Art Museum Miami, Museum of Contemporary Photography, Chicago, and Art Slant Collection, Paris, among others. She received a number of grants for her ongoing project FloodZone, including the South Arts Fellowship and Michael P. Smith Fund for Documentary Photography. The book of the project was published by Steidl in 2019. Samoylova received her MFA in Photography from Bradley University and MA in Environmental Design from Russian State University for the Humanities.