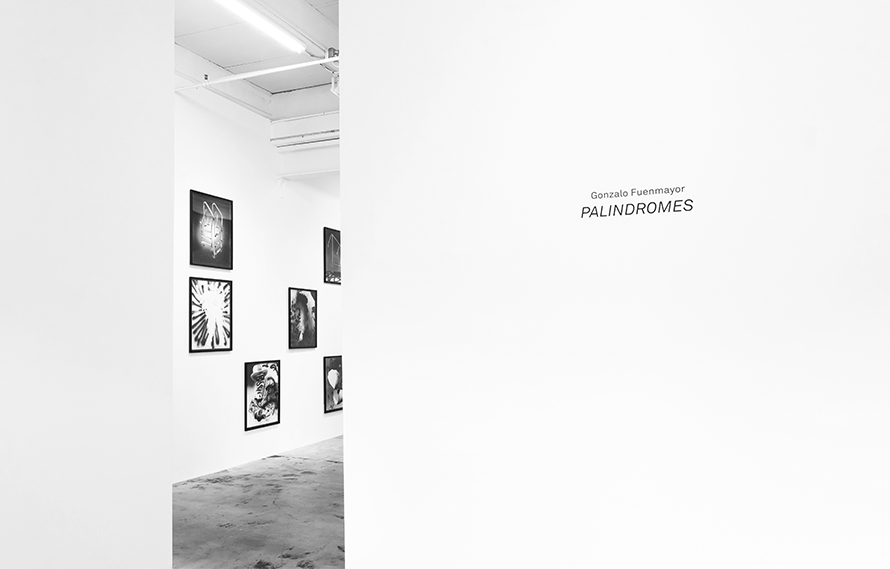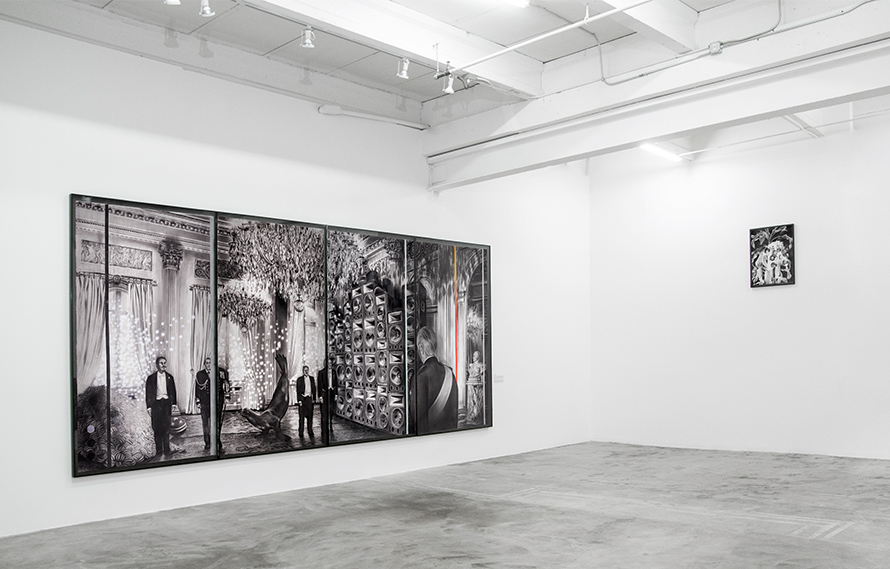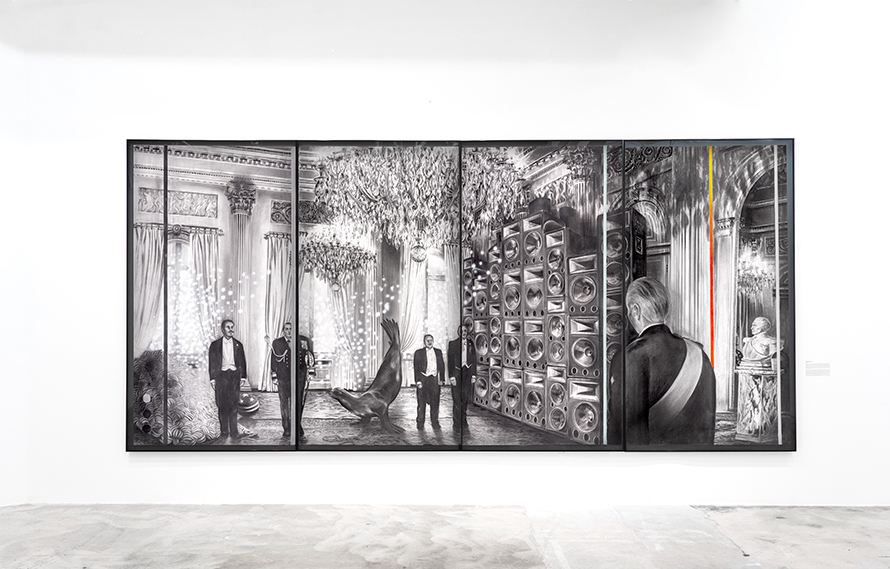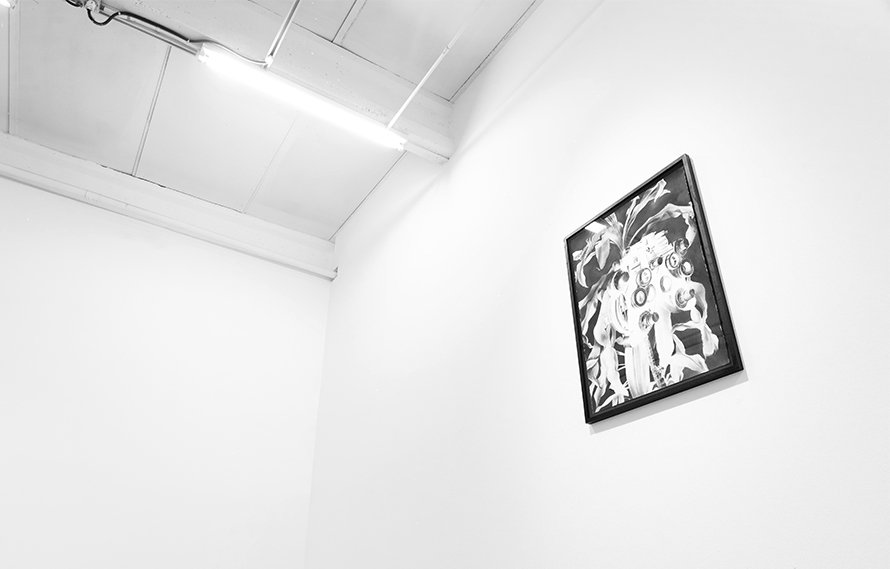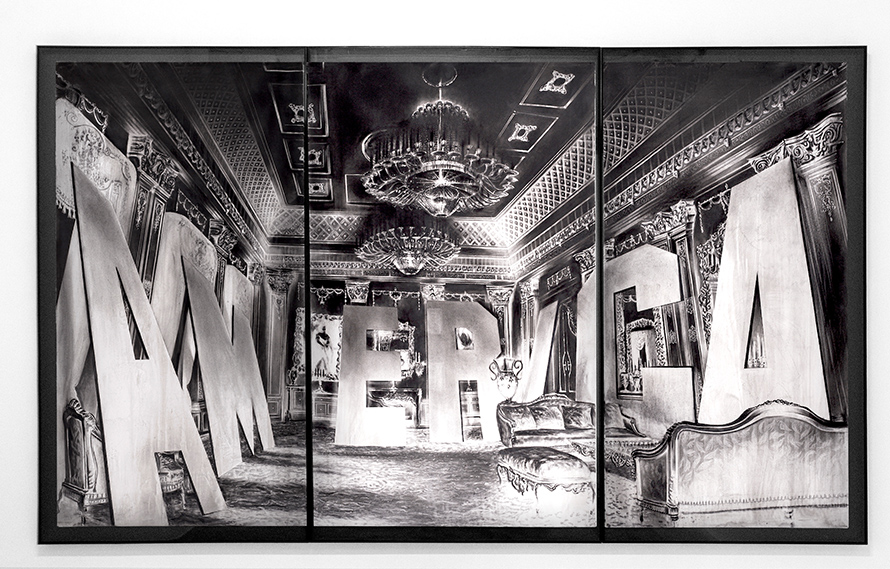 GONZALO FUENMAYOR
PALINDROMES

Dec 03, 2020 | Mar 12, 2021

Dot Fiftyone is delighted to present Palindromes, the fourth solo exhibition of Gonzalo Fuenmayor at the gallery. The show features a selection of small and monumental works in charcoal produced during 2020,
Palindromes represents Fuenmayor's "latest investigations into how images can speak to the dynamics of performing identity, negotiating cultural expectations, address histories of colonial exploitation and unpack tropical self-exotification. These reoccurring interests are particularly addressed in his practice to a pan-Latin American and U.S. Latinx context" according to curator Tobias Ostrander's text.

Ostrander expands, "Often incorporating text, literature and filmic references, the artist's choice of title for the current exhibition nods to these creative resources. "Palindromes" are words that can be read both backwards and forwards and are referenced here in order to suggest that certain images might be understood as functioning in similarly multi-directional ways, contingent on who is interacting with them; how one's own subjectivity, cultural background and history inform our reading. Palindromes is also the title of a series of works that reveal new and intriguing formal explorations being pursued by the artist currently."

"Spray paint is engaged by Fuenmayor for the first time, creating a diversity of black and white gestural marks that add new depth and complexity to these compositions" remarks curator Tobias Ostrander. "While all of the artist's images and textures are produced directly on the paper, he thinks of these works as functioning more like collages than drawings, a distinction that is further supported by his disjunctive use of imagery. His odd figurative juxtapositions also give the works with their surreal and uncanny character."

In some of these recent works as in several of his previous pieces, Fuenmayor includes his iconic palace interiors and opulent chandeliers. Gonzalo Fuenmayor has been concerned about the effects of modernization and progress not only on natural environments, but mostly on Latin American culture and its ways of being displayed internationally through stereotypes and common places. His aim seems to be not exclusively, to denounce banalization but also to understand its aesthetic mechanisms and cultural power.

Gonzalo Fuenmayor (b. 1977, Barranquilla, Colombia) is a Miami-based artist working primarily with drawing. He received an MFA from the School of the Museum of Fine Arts in Boston, MA (2004), and a BFA in Fine Arts and Art Education from the School of Visual Arts (2000), where he was awarded a full tuition scholarship from the Keith Haring Foundation. He has exhibited in numerous solo and group shows in the US, Latin America and Europe, including solo shows at Galería El Museo, Bogotá, Colombia (2020); Dolby Chadwick Gallery, San Francisco (2019); Dot Fiftyone Gallery, Miami (2017); Museum of Fine Arts, Boston (2015). Group exhibitions include: Idioms and Taxonomies, Oolite Arts, Miami Beach (2020); Universos Desdoblados, Museum of
Modern Art, Bogotá (2019); Altered States of Consciousness, Oolite Arts, Miami Beach (2019); Trasatlántica, Galería Fernando Pradilla, Madrid (2018); Deconstruction, Frost Museum of Art, Miami (2018); Florida Prize in Contemporary Art Exhibition, Orlando Museum of Art (2018); among others. Fuenmayor has received numerous awards including a 2019 Ellies grant from Oolite Arts, 2015 South Florida Cultural Consortium Fellowship for visual and media artists, Traveling Fellowship from the School of the Museum of Fine Arts, Boston in 2014, and a Silas Rhodes Family Award in 2000, among others. His work is the subject of a forthcoming publication produced by Oolite Arts and published by Tra Publishing Miami.

Palindromes will be on view through March 12, 2021. The hours are Monday to Friday, from 12 pm to 7 pm, and Saturday from 2 pm to 7 pm. Dot Fiftyone Gallery is located at 7275 NE 4th Ave, Miami. For more information or to schedule an appointment, please contact Isaac Perelman: isaac@dotfiftyone.com
Click here: to read the full essay written for Gonzalo's show by curator Tobias Ostrander and access the artwork images.