CLAUDIA JOSKOWICZ
SYMPATHY FOR THE DEVIL
Nov 21, 2013 | Jan 10, 2014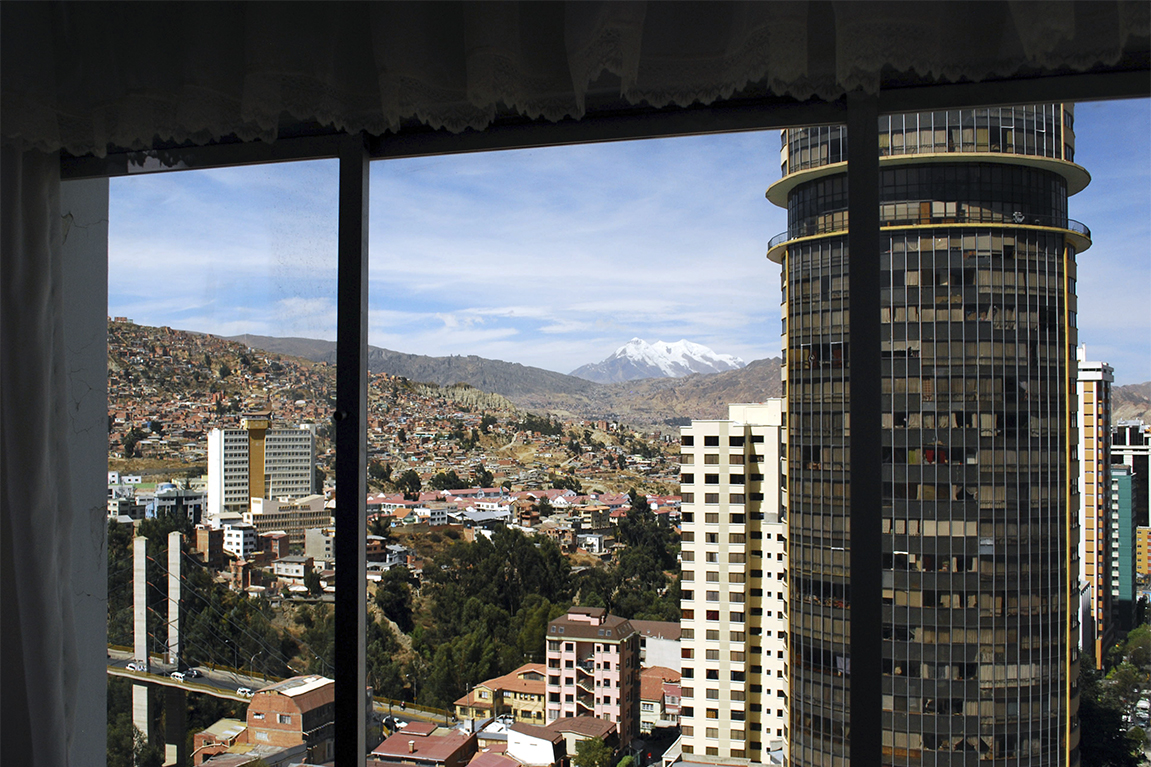 Sympathy for the Devil, (Two channel digital HD video 8 minutes, color and sound ) can be understood as a reflection on space and its influence on the human social dimension. Using the iconic view of the Illimani (a prominent mountain in the Bolivian Andes) two synchronized screens narrate an anecdote from 1970s Bolivia. They each depict the daily encounter between a Polish jewish refugee who arrived in Bolivia during the Second World War and his upstairs neighbor, the former Nazi Klaus Barbie (who lived under an assumed identity) in a building in a well todo neighborhood in the city of La Paz. Both men lived parallel lives as neighbors and as European immigrants in exile in Bolivia, mutually aware of each other's presence in the building, meeting daily in the elevator. The cold landscape of La Paz serves as backdrop to highlight the contrast of the lives of these two men who left behind opposing destinies in Europe and shared a view in Bolivia. This simple interaction serves to highlight a recurring situation in Bolivia and Latin America at large in the postwar period when the region offered asylum to both persecuted Jews and Nazi Germans, antagonistic communities in Europe, which would coexist in relative lull in Latin America.


Claudia Joskowicz lives and works between New York and Santa Cruz de la Sierra, Bolivia. She received her MFA from New York University in 2000. Solo exhibitions include shows at The Albright-Knox Gallery, Buffalo; LMAK Gallery, Forever & Today, Inc., Thierry Goldberg Projects, and Momenta Art in New York; Dot Fiftyone Gallery in Miami; California Museum of Photography in Riverside, California; Project Space Galerija Gregor Podnar in Ljubljana; Die Ecke Arte Contemporáneo in Santiago and Barcelona; Espacio Simón Patiño and Museo Nacional de Arte in La Paz, Centro Cultural Santa Cruz, Nube Galería, and Galería Kiosko in Santa Cruz, Bolivia; and Lawndale Art Center in Houston.

Group exhibitions include the South London Gallery, London; Guggenheim Museum in NY; Fondation Cartier pour l'art contemporain in Paris, France. Selected public collections include the Guggenheim Museum, NY; the Kadist Foundation in San Francisco, the Cisneros Fontanals Foundation in Miami, and the Banco Central de la República in Bogotá. Among other awards, Joskowicz has received a New York Foundation for the Arts Fellowship in film/video, a Cisneros Fontanals Foundation Mid Career Artist's Commission, a Guggenheim fellowship in film/video, a prize from the 17th Videobrasil Festival, and a Fulbright Scholar award. She has been an artist in residence at the Latin American Roaming Art Project in Oaxaca, Mexico, the Sacatar Institute in Bahia, Brazil, the AIM program at the Bronx Museum of the Arts and has also been a resident fellow at the Lower Manhattan Cultural Council's Workspace Residency and its Paris Residency at Cité Internationale des Arts, Paris, France. Joskowicz is an Assistant Professor of Art at Wellesley College.