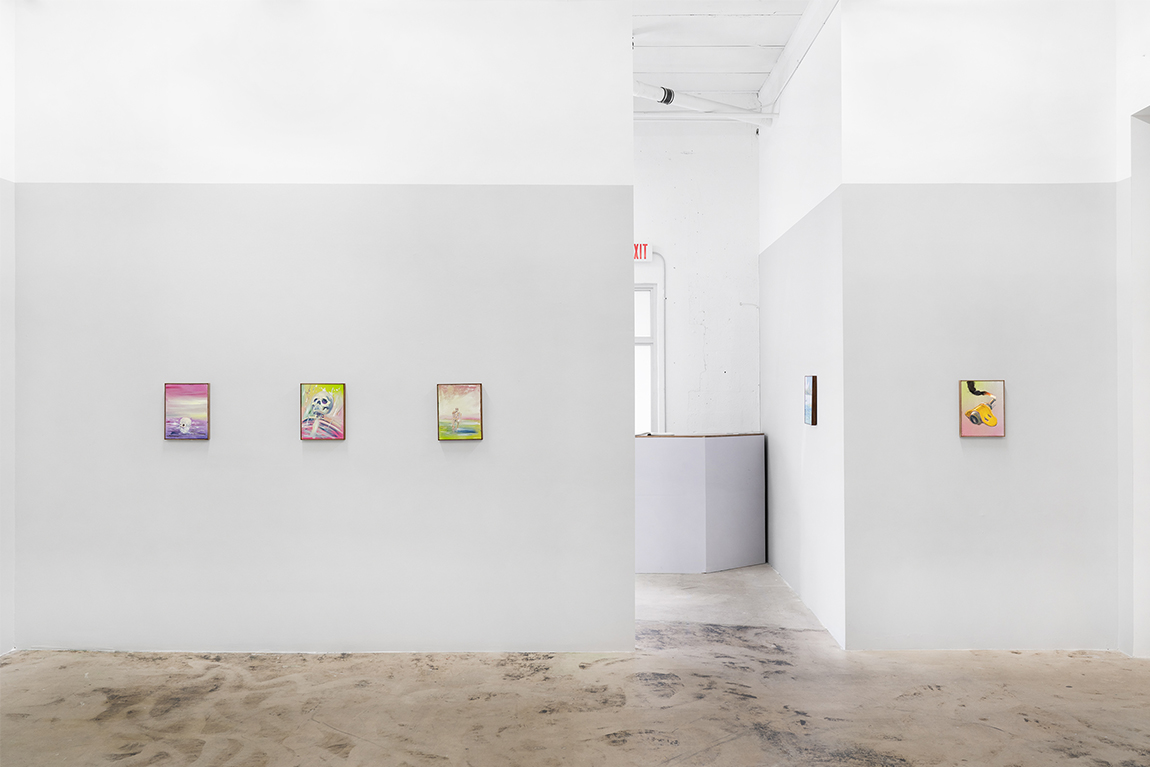 MARCOS CASTRO
SO IT WILL BE THE PAST

Curated by Verónica Flom

Opening Reception: Sunday December 1, 11 am - 4 pm

Exhibition dates: December 1, 2019 - February 15, 2020

The universe of the ocean, the beach, the surfers and Mexican pre-Hispanic references merge in this exhibition to create Marcos Castro's own imaginary in his second solo show at the Dot Fiftyone gallery. Castro works with an array of media: painting, drawing, sculpture, video and ceramics. His work focuses on the connection of man with nature, with the wild, the mythical and the sacred. The ritual appears in Castro's work in different ways, but in these paintings, it revolves around water and mainly within the relationship of surfers, the waves and the movement of the sea.

In his recent paintings, the figure of the Aztec goddess Coatlicue works as a starting point that derives into magical beings, a little bit robotic, that appear as central characters of his paintings. The ceramic sculptures are not by accident mostly painted in blue. Castro uses blue as the color associated with the Mexica God of war, Huitzilopochtli, and also referred to south as a cardinal point. In his works the references to the pre-Columbian past of Mexico, in any form, combine the mythical and the ritual elements with narration, fiction and fantasy.

If the ruin was the predominant symbolic element in Castro's work, in his most recent paintings the body seems to have taken that place. But the body appears in mutation, as an element in permanent transformation. In the transmutation of the body -whether the body is in a state of energy like that of a surfer on a wave or as a skull that reveals that we are pure bone- Castro wonders about the most intrinsic concerns of humankind: the relationship of man with the mysteries of life and death. In his paintings, the scenes are a combination between science fiction and an imaginary past, a kind of timeless Back to the Futureor a post-apocalyptic world, which oddly, holds something paradisiacal.

Marcos Castro (b. 1981, Mexico City, Mexico) is one of the most prominent artists of his generation. He has had diverse solo exhibitions at very early age, both in Mexico and internationally. Among his exhibitions: El color del sur [The color of the south] at Machete in Mexico City, Objetos Necesarios [Necessary Objects] at Dot Fiftyone Gallery in Miami, Florida, Futuras Ruinas [Future Ruins] at Galería Luis Adelantado in Mexico City, Negras Tormentas [Black Storms] at the Clauselito in the Museum of Mexico City, Número Bestial [Bestial number] at the Museum Ex Teresa Arte actual, among others. He is founding member and co-director of the cultural space Obrera-Centro.