GIAN PAOLO MINELLI
THE SKYN OF THE CITIES
Apr 13 | Jun 17, 2018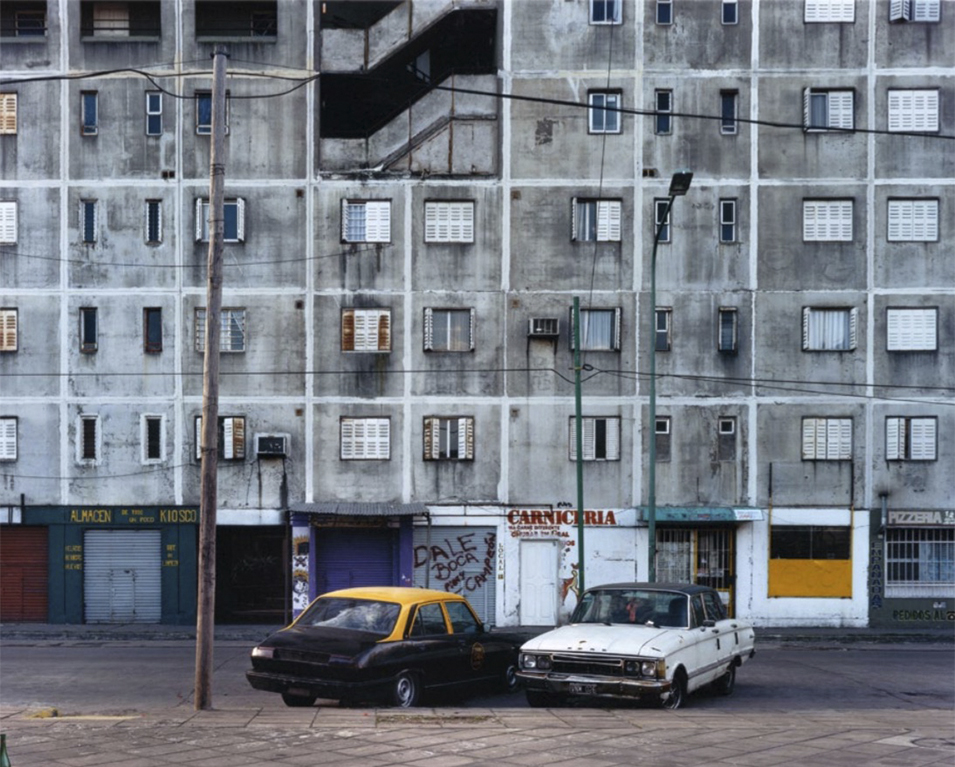 In Gian Paolo Minelli's "The Skin of the Cities" (the artist's second solo exhibition with Dot Fiftyone Gallery), architectural photography becomes a social document, and social reportage becomes an artistic project: the soft walls of society find their counterpart in the hard walls of the building. It is immediately apparent that Minelli is a photographer with a talent for capturing the sculptural quality of architecture, a formalist reproducing the built world with a brilliant sense of its spatial and plastic tensions.

This urban landscape exudes a coldness far removed from our conventional image of the Latin joie de vivre. Signs of violence, desolation and lawlessness are visible everywhere. Minelli's photographs show how beautiful they are. What is special about Minelli's work is that it goes beyond the poetry of the brutal, the aestheticization of the ugly. People live in these streets and in these concrete bunkers. Gian Paolo Minelli knows them, has befriended them, works with them. He played a key role in setting up the community cultural center. Tellingly, he doesn't make portraits of these people. Instead, he sets up his tripod and hands over the self-timer to his subjects. They are invited to take pictures of themselves, to show us how they see themselves and the world around them. But Minelli is not a social worker with a plate camera. He never seeks to embellish the hardness and coldness of photography itself. On the contrary: Minelli's work shows that these buildings, these streets and these people also have their style, their pride, and their beauty – whether we like it or not.

Some of the works featured at Dot Fiftyone Gallery have been recently shown at The J. Paul Getty Museum in Los Angeles in the exhibition "Photography in Argentina (1850-2010): Contradiction and Continuity," curated by Judith Keller and Idurre Alonso. This show examines the historical and political complexities in Argentina, highlighting the heterogeneity of its reality, the creation of contradictory histories, and the power of the construction of images in the configuration of a national identity. A set of approximately 300 photographs across 200 years of history was the challenge that the curators managed to unveil, bringing together a comprehensive panorama of Argentine history through photographic documentation and by rescuing the talent of contemporary artists. This exhibition was part of Pacific Standard Time: LA/LA, a far-reaching and ambitious exploration of Latin American and Latino art in Los Angeles, which took place from September 2017 through January 2018 at more than seventy cultural institutions across Southern California.

Minelli's highly original synthesis of documentary and content-oriented photography, on the one hand, and conceptual, formalist photography, on the other, is always easy and natural. His photographs guide us into the glowing core of the cities, which is mostly found at their periphery, and we come to realize that the fissures, the rust, the ruins, and also the defiance, the self-affirmation, the silent dignity, humor, and beauty reveal themselves in the façades of their buildings and in the faces of their denizens.

Gian Paolo Minelli, was born in Geneva, Switzerland, in 1968. He arrived in Buenos Aires in 1999 and, since then, he's been living between Switzerland and Argentina. In Buenos Aires, he developed his series Zona Sur (2000-2010); Playas (2004-2008); Galpón Colón (2004-2005); and Cárcel de Caseros (2000-2002). In these works, which Minelli calls "photo essays," since he considers them more like a development of ideas rather than a sequence of photographs, he offers several answers as to the form and operations of the city.

In 2008, he received the Swiss Art Award, as well as the Applied Arts Award in 1996, 1999, and 2002 in Berne, Switzerland. From 1998 to 1999, he was artist-in-residence at the Swiss Culture Institute in Rome, Italy. He was also awarded the Cité des Arts Prize in Paris, which allowed him to extend his residency there (2009-2010). The Skin of the Cities/La piel de las ciudades was recently published, a review of his entire career as a photographer, curated by Tobia Bezzola and published by Codax and JRP Ringier Publishers (Zurich, 2009).

Minelli has had solo exhibitions at different museums, contemporary art centers, and galleries in different cities around the world. He has participated in more than seventy-five group exhibitions in remote cities such as Buenos Aires, Rotterdam, Krakow, Rosario, São Paulo, Miami, Basel, Mexico City, Bogotá, Turin, New York, Rome, Hamamatsu, Zurich, Liverpool, and Geneva. He edited and published the following books: Variation of Theme, Lugano, Switzerland (2017); Zona Sur, Barrio Piedra Buena, Buenos Aires, Argentina, 2001-2006 (2007); Cárcel de Caseros 2000-2002 (2003); Transfer (1999); Buenos Aires: encuentro con treinta artistas (1997); and Notturni (1997).